Podcast interview with Stephen Dare, Head of School, Hong Kong Academy
'When Can We Go to School?' Nearly 300 Million Children Are Missing Class. The global scale and speed of the educational disruption from the coronavirus epidemic is "unparalleled," the United Nations said. – The New York Times
To contain the coronavirus, the Education Department in Hong Kong ordered all schools to remain closed after the Chinese New Year. Instead of returning 3 February, schools were to remain closed an additional four weeks. That was extended again – and again. As of writing, schools are scheduled to return on 20 April – a full 87 days after the last school day before Chinese New Year.
With very little warning, schools across the country had to find effective ways to continue educating students using a wide range of remote learning tools.
Stephen Dare is head of school at Hong Kong Academy, a not-for-profit, independent school located in Sai Kung – a quiet fishing village in the northeast of the country. With just over 600 students, the school has students from pre-kindergarten through high school.
Responding to exceptional circumstances stretched everyone in the community. Teachers had to adjust and rewrite curriculum to engage students joining via video-conference from locations all around the world. Parents needed to support children at home for extended periods. Students needed to adjust to new formats for learning. And staff had to work across the board to manage the fast-changing situation.
As schools around the world prepare their contingency plans for remote learning, listen to how one leader responded to the challenges. Hear the pain points, lessons, and observations – and learn how a complex organisation with numerous stakeholders can adapt quickly to exceptional circumstances.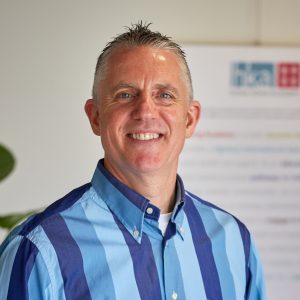 Biography
Stephen Dare, Head of School, Hong Kong Academy
Stephen is entering his 10th year as Head of School. He is passionate about creating opportunities to democratise learning and elevate student voice within schools. He believes that everyone in an organisation has the capacity to contribute to the co-construction of learning experiences that both elevate thinking and promote action in support of broader educational initiatives.
Stephen began his career as a preschool teacher in Southeast England, and has worked as an administrator in North and South America as well as Southeast Asia. He is the treasurer of the ACAMIS Board and supports the Next Frontier: Inclusion Design Team in an advisory role. Stephen is an Agency Trainer for the Thinking Collaborative and has embedded the work of Cognitive Coaching and Adaptive Schools into the professional learning culture of HKA, helping to implement the school's mission and identity. He regularly presents courses on coaching and building institutional trust at international schools and conferences.
Stephen initially left his home town for a two-year adventure overseas, and over thirty years later he continues to embrace the opportunities of working in a global culture.