Disney bills itself as the "Happiest Place on Earth", but according to a recent report from the United Nations, that is instead Finland. The World Happiness Report was launched in March and ranked countries by a range of factors meant to measure happiness. These include: income (GDP per capita), healthy life expectancy, social support, freedom, trust (absence of corruption) and generosity.
Interestingly the USA was ranked #18, " "in part because of the ongoing epidemics of obesity, substance abuse and untreated depression," according to World Happiness Report co-editor and Columbia University professor Jeffrey Sachs. (Source: CNBC)
In workplaces, companies offer outreach and care programs meant to instill a better sense of self and to imbue happiness. Yet not every culture places the same importance on the issue.
Does happiness matter? How does it impact your business? If it does matter, what are the cultural differences business leaders in Asia Pacific need to account for?
On Friday, 8 June 2018 is a panel featuring two prominent happiness experts. Ms Shveitta Sethi Sharma is Chief Happiness Officer at School of Happiness (and coordinator of this year's TEDx Wanchai).  Ms Sari Arho Havrén, PhD, is Consul Innovation at Business Finland here in Hong Kong.
Come learn what your business is missing – and how to be happier. You should leave with a smile on your face!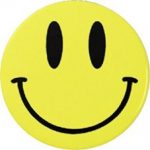 Friday, 8 June from 07:45-09:00 –
For reservations and information, please email
Santo at AsiaCircle dot ORG